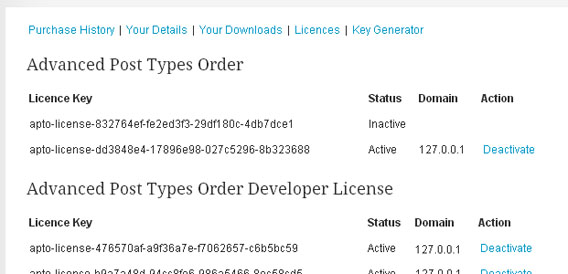 The Software License plugin for WordPress E-Commerce, provides a powerful solution for downloadable/non-downloadable (physical) products licensing, license keys generators, license activations and usage, code protection against multiple sites usage and unauthorized deployment, auto-updates for the downloadable software directly through the WordPress core update engine. Also it provide support for user auto-register if check-out registration is turned off, to allow all customers to be able to manage their license keys. Older clients will be able to use the new licensing system through the incorporate transition module. No manual maintenance is required at all, everything it's managed automatically. All downloadable products instances will be tracked through admin using this software along the generated license keys.
The implementation and the usage of this plugin is an easy process, a complete documentation is provided within the product package through a step by step instructions. Also integration code examples are provided for advanced usage.
Whether you are selling digital products like WordPress plugins, WordPress themes, mobile applications, desktop software, anything which require licensing in particular (including non downloadable) this is the right tool for you, which provide all required resources to take your business on a higher level.
The plugin provide a server and client API which allow customers to connect and generate, activate, deactivate manage anything they need about their purchased licenses.
Simple example on how a product can be set as Licensed
The plugin has been created keeping in mind the usability, everything need to be simple and any configuration straightforward to apply.
A product need to be created using the Add New from the WP-Ecommerce Products interface:

All regular&required product fields need to be filled in, however there is no special requirement on that matter for this plugin to apply.
A new meta-box is available, which allow to enable/disable the licensing system for this particular product:

Enable / Disable Software License can be managed through the Use License for this product selection, by choosing between Yes or No. By default this is disabled (No).
Every downloadable product is identified by a unique Product ID string. This is also used within the code to allow API calls.
The product version is held by Product Version field, all previously purchased software will check through API for this field and get notified in case of a update availability.
The Secret Key is a unique randomly string which is used when establish connections through API.
For a WordPress E-commerce product, one or multiple Licenses Keys can be assigned, to allow the customers to deploy/own the deliverable/plugin within one or multiple sites. This can be managed using the field Maximum allowed Licences which need to contain the number of allowed keys. For single license 1 can be used, while for developer licensing a higher number will be typed in.
A License Prefix can be provided to allow the code to generate easy to identify key codes.
A customer can manage it's license keys and generate more using a front site interface: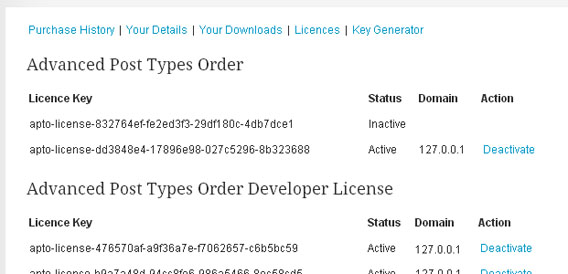 Key Features for Software License plugin
License Key Generation / Management
Remote License Activation-Deactivation
Easy Integration
Admin License Disable
Software Autoupdate
100% Backward compatibility with existing Wp E-commerce users and purchases.
All new versions of this plugin will be available for any customer to download. Any help regarding deployment, installation, configuring will be available through contact at no extra costs.
Price: $45.00 (One-Time, Not recurring)