During recent year, WPML becomed the best plugin to help translating any site into a multilingual. It featured lots of options and functionality which help with pretty much everything related to languages and translations.
The Advanced Post Types Order plugin already include the necessarily code to help with sorting the WPML translated objects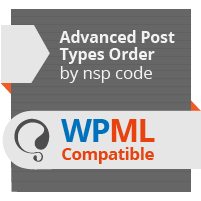 Starting version 3.9 the Advanced Post Types Order got a huge update for working with latest WPML, it can synchronize any sorting across all other active languages.

Turning On this setting, on a sort update, the code attempt to recreate the same order for all active languages. This require for other languages to contain the same objects (translations). Also if taxonomies terms are used, they need to be translated too. Any unsuccessfully synchronization is outputted on the screen, also a brief message upon the error to help fixing it.
If the synchronization option is turned off, the sort for each language can be controlled individually, without alter other while updating a sort.