Post Types Order is a well known plugin, the best of it's kind, with over 7 Millions downloads since release date. Is a well maintained, bug free plugin.
What are the Post Types?
One of the greatest features introduced by the WordPress developers starting with the 3.0 version is the custom post type. This feature allows users to create a custom content type. That provides an easy way to separate site sections for easier content management. Once again the WordPress developers prove they are inspired, this being a big plus over other available CMS … and it's getting better.
Why use this plug-in do?
All WordPress users require – at a given time – to change the order of the posts. There are two ways of handling this. One can do that manually, by changing the WordPress Order field with a unique number for each of the posts. That obliviously turn into a nightmare if there are lots of posts. Another way is to use the Post Types Order plug-in, which represents a fast and easy way to update the sorting through a JavaScript drag and drop interface.
Does the Post Types Order plugin allow me to order my custom post types other than posts and pages?
Yes, using this plugin you will be able to re-sort all of your defined custom post types, either hierarchicaly or not. Once activated, a new menu will appear under each of the custom post types UI.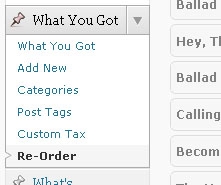 How the plugin allow me to sort post types?
The sort process it's very simple: click and hold a title bar, then move it in the required place. No numbers, no fancy operations, no headaches … just child play.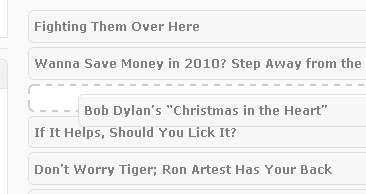 When the custom post types list it's sorted as you need, a save it's required: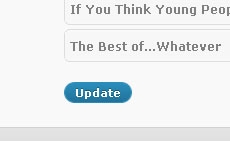 Does the Post Types Order WordPress plug-in allow me to sort the admin posts?
Yes, once the post types sort it's completed, the new posts order can be available for the WordPress admin posts interface too. This can be applied for all WordPress custom post types hierarchically or not, including the default posts and pages. This feature can be updated through the settings page by turning it either On/Off.
I'am not a php developer, is there a way to make this plug-in to work for me?
This plugin feature a very smart way to change the wordpress queries. You don't have to update anything, just activate the plug-in, sort your custom post types and then enjoy the results. It's that simple!
Can i get more?!!
An advanced version of this plug-in is available, lots of new interesting features are included, check the table bellow and Advanced Post Types Order product page.
Mini

FREE

Advanced

$35

All Post Types Order
jQuery Easy Drag & Drop Interface
Wordpress Order Admin Interface
Wp Theme Auto Query
Set Minimum Level to allow sort
Hierarchically post types order
–
Specify exact area where to apply through conditionals
–
Advanced query interface filtering and complex sorts including multiple post types and taxonomies
–
Posts Order by Custom Taxonomies
–
Enhanced Interface, List / Grid View
–
Allow Interface Filters (Categories, Dates, Search etc)
–
Post Types Thumbnails
–
Advanced query usage
–
MultiSite Network Support, WPML, Polylang, WooCommerce, WP E-Commerce, Platform Pro, Genesis etc
–
Mobile Touch Drag & Drop Ready
–
Sort interfaces for admin and front end
–
Pagination for sort lists
–
Free Updates
–
Free Support
–
Download

Purchase
Try NOW the free version of this great plugin! For Wordpress order posts types never been this easy